Pruning Japanese Maples and other Ornamental Trees with One Finger
Make sure you watch the video to the 3 minute, 5 second point!  You'll see why this is so important and how it applies to you in your yard.
Seriously, this could save many of the beautiful plants in your landscape.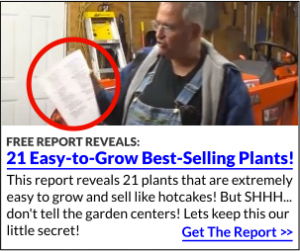 Just one finger is all it takes to dramatically improve the appearance of a Japanese maple tree or any other ornamental tree like Weeping Cherry, Flowering Crab Apple, Lavender Twist Redbud or any other grafted or budded plant.  Or any tree for that matter.
Beautiful ornamental trees don't grow that way by accident, nor do they always grow the way you want to them naturally.  They need your help.  In short, there are places on an ornamental tree where you want branches, and there are places where you do not want any new branches.  And this is where things go horribly wrong when people get a really nice ornamental plant home and install it in their landscape.  It's beautiful!  They paid a lot of money for it, and they are afraid to touch it!  You have to touch it!  You can't abandon it once you have it home.  It needs your attention!
It needs you to take your index finger and do some very easy, but necessary pruning.
In the above photo you are looking at a new bud on a Japanese maple tree.  That bud is going to open up with leaves, then in a matter of weeks it will grow into a small branch, then over time into a very large branch.  But I don't want a branch there.  Not there!  It's too low on the tree.  A branch there will be laying on the ground and it will ruin the appearance of the tree.  So with just the flick of my finger I can quickly and easily brush that bud right off the tree.  That one little tiny effort will make all the difference in the world to the appearance of this tree over time.
This little bud had every intention of becoming a full grown branch.  You can see in this photo how soft and pliable this tissue is.  If you just bump one of these buds they come right off the tree.  These new buds tend to show up on the stem of ornamental trees throughout the growing season, but you'll see more of them in the early spring.
With the flick of my finger I can make a lifetime improvement to any ornamental tree and I do this thousands of times a year in my nursery.  I just walk through the nursery and brush off any buds where I know I don't want a branch.  This saves me from having to use hand tools to remove these branches later.  And if I do it now, when they are still just buds, there is no scare on the stem of the tree.