Japanese Red Maple, Acer Palmatum atropurpureum
By Michael J. McGroarty, Perry, Ohio Copyright 2011
Most gardeners have no idea how many different kinds of Japanese Maples there are in the world.  Some are aware that there are several different varieties, but most have no idea as to how many there really are.  As close as I can tell there are over 250 different named varieties of Japanese Maples.  Some are similar in appearance, others are very different and totally unique.  That's what makes collecting these incredible trees so much fun!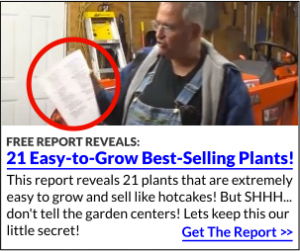 The Japanese Red Maple seedling shown in this photo isn't quite the most generic form of Japanese Maple, but it's close.  About the only thing that is more generic than this is Acer palmatum which looks just like this but the leaves are green.  Even though they are very generic in appearance, they are literally the foundation that the world of Japanese Maples is built upon because they are so often used as rootstock in the grafting process.
You see, most of the beautiful and breath taking Japanese Maples that you see are not growing on their own roots.  The more desired varieties cannot be grown from seed and getting them to root is very difficult if not impossible..  So the easiest way to reproduce one of these most desirable plants is to take a cutting from the desired variety and "graft" it on to the roots of a Japanese Maple grown from seed.  You can collect seedlings from all Japanese Maple trees, but anytime you grow a plant from seed you get the most generic variety of the species.
The young seedling in the above photo is a perfect example of how tough these little trees are.  This is a fall photo and you can see that this tree looks great.  You should know that this tree has been growing in full sun and was watered with overhead sprinklers and all too often it had to be watered during mid day because when we planted in the spring we did not have a good water supply so we had to water when we could.
Fortunately Mother Nature has given us a little bonus when it comes to Red Japanese Maples.  Often times if you collect seeds from a tree with deep red color the seedlings that those seed produce will often have good red color.  Some will be green, but you should get some red ones.  That's why I consider it a bonus from Mother Nature.  On this site I have an extensive article about growing Japanese Maples from seed; https://backyardgrowers.com/backyard-income-opportunity/growing-japanese-maples-from-seed/
Another fall image.  As you can see the new growth has spectacular red color and
in the background you can see the much deeper red on the more mature leaves.
The Japanese Red Maple tree is kind of an elusive dream for many gardeners because when they see them for sale in their local garden centers they are often quite pricey.  I have two goals with this website.  I want to introduce gardeners to the wonderful world of Japanese Maples, showing them through pictures and video the wide variety of Japanese Maples that the world has to offer.  And at the same time I want people to realize that they don't have to just dream about owning one or several of these beautiful trees.  On this site we will show you to grow them from seed, how to graft your favorite variety onto  a rootstock, we'll proably do some summer budding as well, and we will bring together Japanese Maple enthusiasts and vendors who can sell you these beautiful trees at a small affordable size.
Believe it or not, when I buy just a standard Japanese Red Maple tree from one of my wholesale suppliers I only pay about $1.35 each for them!  At the time of this writing I've got 2,000 ordered for spring and will probably add to that order before the ship.  When I buy the really rare varieties the wholesale prices range from $8.00 each up to $15.00 each.  Occasionally I spend $30 on something really rare.
Now I can't promise that you can get them at those prices.  You have to be a member of the trade, and you have to buy in quantity.  But what I'd love to see happen through this website is that members here can get in on some of the deals through our network of vendors that we are going to establish here.  My dream is make it possible for our members to build their own collection of Japanese Maples at the most reasonable prices possible.
People are so envious when they see my beautiful collection, but then when I show them how inexpensive they are when I buy them at small sizes they just can't believe it.  So I suggest you stay tuned because I am going to work really hard to find ways to put some of the most beautiful varieties into your hands.  No promises, but that's my goal and I'm quite confident that we can make it happen.
Not only do I have a really nice collection in my yard, but I also have a small nursery here in Perry, Ohio where we specialize in Japanese Maples and the collection in the nursery is growing all the time.  Spend some time looking around http://mcgroartyenter.wpengine.com, you'll quickly realize how magical these beautiful trees are and how addictive growing and collecting them can be.  Enjoy the ride!  -Mike McGroarty