It's not done all that often, but the art of braiding three plants together into one plant creates a truly unique and unusual plant.  This photo is three Japanese Red Maple tree seedlings braided together to form one very interesting tree.
This beautiful little tree was created by one of member/nursery owners, Thomas Propst from Newton, North Carolina.  The name of his nursery is Blue Feather Plants.  At the time that I am posting this his website is not up yet, but I'll give you the link so when he gets his site online you can pay him a visit.  http://bluefeatherplants.com/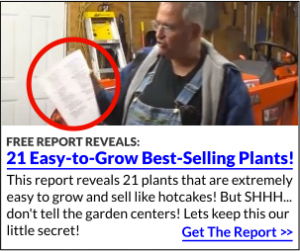 Thomas has done an incredible job with his Backyard Nursery since Joining my program and the creation of this tree is a testament to the passion that he has for plants.
I'll explain the process of braiding in a second, but first take a look at the photo.  That's three different trees braided into one.  Because these are Japanese Maple seedlings (trees grown from seed not grafted) each one is unique and not identical in a way.  Grafted plants, or plants grown from cuttings, are usually exact clones of the parent plant because they contain the exact genetics as the parent plant.  Trees grown from seed will not be an exact match to the parent plant, and in this case it's a huge benefit because each one of these little trees is displaying a different fall leaf color.  Amazing and beautiful!
Can you imagine how interesting this tree is going to be in 20 years?  That's why I love plants.  They bring people constant joy!
To create this tree all Thomas did was take three Japanese Red maple seedlings and pot them in the same container.  Then he braided them as you can see in the photo and secured them in place so they would stay braided.
When I am training plants I will often use duct tape to secure them in place because I have found that after about 12 months out in the weather the duct tape dries out and will eventually fall off.  That's really important because if you use something that is non biodegradable that stays in place forever, the binding will cut into the plant and eventually girdle the plant and cause serious damage to the plant.  With duct tape, if I forget to remove a wrap, or don't see one when I am removing them, it will usually remove it's self at just about the right time.
Japanese Red Maple Trees are actually quite easy to grow from seed and they are hot, hot, sellers!  Detailed instructions about how to grow them from seed are here.  I need more people who would like to grow and sell Japanese Red Maple tree seedlings.  I buy thousands of them myself!  Why do I buy them if they are so easy to grow?  Because I am impatient!  I want them now, as do thousands and thousand of other plant enthusiasts around the country.
I just bought 400 of them this fall and I will order 1,000 more for spring.  Because they sell like crazy.  All of my member/backyard growers want them.   They need them!  They have customers asking for them.  They need them to sell, and they need them for grafting.  I'm telling you, this is a hot item!
But . . . if you really want to do this right and not make a bunch of mistakes that can be avoided, you have to get my Backyard Growing System.  Why?  Because as one of my customers I'll show you where and how you can sell your plants online without a website and without any marketing of your own.  I have a lot of members who sell thousands and thousands of dollars worth of plants right from home using this resource.
Not sure?  Reluctant to make a decision?  Read this.
-Mike McGroarty