Michael J. McGroarty
Perry, Ohio 44081 Copyright 2011
Acer palmatum 'Bloodgood' is an upright Japanese maple that is known for it's deep red, almost purple color.  Bloodgood is a wildly popular tree that tends to hold it's red color throughout the growing season.  The origin of Bloodgood isn't exactly known, but it has been in production in the United States since before 1940.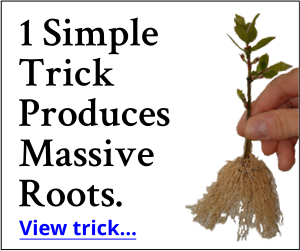 Bloodgood is one of the few Japanese maples that is commonly propagated from a rooted cutting, whereas most Japanese maples are grafted onto a hardy root stock.  However, I'd still have to say that many, if not the majority, of bloodgood are still grafted since rooting them is not easy. Only a few propagators in the country really know how to do so with predictable success.
At this time I only have two photos of Bloodgood and admittedly, neither are very good pictures.  They were taken late in the growing season.  These trees had been in winter storage then planted out in the field in April, and as you can see from these photos the leaves are a little stressed.  I will add better photos to this page in spring 2012.