A Small Japanese Maple Garden
My fascination with Japanese maples goes way back and without even consciously knowing what I was doing I started collecting them.  One by one I add new ones to my landscape.  Not because I really wanted a collection, I just really, really liked them so every chance I got to pick up a new one I'd do so.  Then one December day my wife and I went out to look at a couple of houses, not really considering ourselves currently in the market for a house, we were really just looking at floor plans and ideas, and on the spur of the moment we bought a house.  In the middle of December.
At that time the Japanese maple collection that I had was not very extensive but I definitely had more in my yard than most people do.  Because we hadn't really planed to move so quickly I only had time to dig one of my Japanese maples and bring it with me.  The rest stayed with the old house.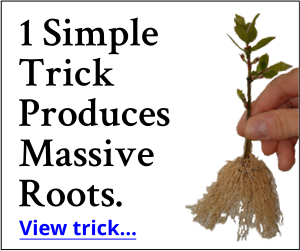 As soon as spring arrived at the new house, I really missed the landscaping I had at the old place so Pam and I went to work, re-landscaped the house and over the first two years I added a number of Japanese maples to my new landscaping.  Varieties that I'd never seen before.  No doubt about it I was falling in love with these magnificent trees.
Then a couple of my Backyard Nursery customers advertised a really wide selection of Japanese maples for sale in our private group so I ordered a bunch of them.  Not sure how many, I just ordered some of the varieties that I was curious about.  When they arrived I planted all of them in my landscaping at the end of the front porch.  It was a great place for them because I spent a great deal of time on the porch, just looking over the railing admiring my little trees, marveling at how each one differed from the others.  That was the beginning of what I guess you can call an obsession and an entrepreneurial experience because I have since gotten back into the nursery business and I now have thousands of Japanese maples growing in my nursery.
The photos on this page are of my small Japanese maple garden at my house. I sometimes take the help of Northwood Outdoor Services to maintain my garden.